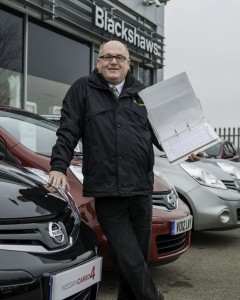 A NORTHUMBERLAND man has clocked up an incredible 10,000 car sales…while holding down a full-time job as an ambulance driver and paramedic.
Hardworking Ronnie Black, 64, joined Blackshaws Nissan in Alnwick as a part-time sales executive in 1983 to fill time between his busy shifts with the North East Ambulance Service.
The grandfather of two made an enormous success of both roles, saving many lives and earning numerous commendations as a first-responder and routinely topping the family-run dealership's sales charts as a car salesman.
Alnwick-born and bred Ronnie retired after 29 years as a paramedic in 2007 and following the passing of his wife Liz, he finally went full-time at Blackshaws.
Now, as he approaches his 30th year of service with the Lionheart Enterprise Park dealership, he has notched up well in excess of 10,000 sales and has no plans to stop selling.
A modest Ronnie said: 'I've thoroughly enjoyed both my careers and I wouldn't have wanted to miss out on either. They've both been really rewarding in different ways.
'I've always liked working hard and when I was working shifts on the ambulance, I'd get home and everyone else would be at work. I couldn't face just sitting at home doing nothing so I decided to get another job.
'To begin with I never intended to do it for so long but I've had great fun along the way so I've just kept going.'
Over the last 30 years, Ronnie's fascinating double life has had some incredible highlights, including:
• Selling a car to a young woman he delivered as a baby.
• Selling a vehicle to a man who paid entirely in coins.
• Selling a car to a man whose life he saved following a traffic accident.
Ronnie said: 'Being born and bred in Alnwick meant I knew a lot of people round here anyway and then working on the ambulance for nearly 30 years meant I got to know a lot of others.
'When people know you and trust you they come to see you first when they need a new car and, if you're polite, friendly and never pushy not only will they buy from you but they'll keep coming back.
'It also helps that Blackshaws has been established for nearly 100 years and has a great name around here.'
Incredibly, Ronnie has detailed records of every car he's sold since 1988 – the first five years of records have been lost – now totalling more than 8050 vehicles.
Although his earliest records are no more, Ronnie can clearly recall the very first car he sold was a gold Datsun Cherry 1.2 GS 5dr with 2,000 miles on the clock. He sold it to a man from Longhorsley near Morpeth who still buys cars from him to this day.
Best ever year
Delving into his remaining records though he can see his best month ever was March 2012, during which he sold an impressive 63 cars. 2012 was also his best ever year with a total of 408 sales
Ronnie added: 'I kept a record of all my sales from day one. I started so I could fill in my commission sheets but then I kept doing it.
'Actually, my records are a big part of selling cars for me. I can see when someone's car's a certain age or coming to the end of a finance deal and I can give them a call about taking another one.
'A few years ago I transferred most of them onto computer to make my life easier but I threw away those from my first five years as I didn't think there was any point keeping records that went that far back. All I can remember is that there were more than 2,000 cars in there.'
Blackshaws Nissan Managing Director, David Blackshaw, said: 'Ronnie's an absolute legend. They don't make them like him any more.'