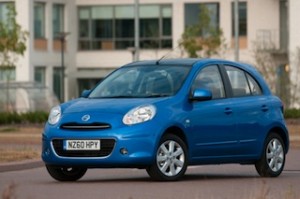 NISSAN has launched a new petrol engine for the Micra making the derivative eligible for zero road tax.
The announcement is bound to see customers walking through the door who are in search of a strong packaged car which comes with the added benefit of zero road tax.
Called the DIG-S, the engine is a direct injection unit with a supercharger which produces just 95g/km of CO2 making it one of the lowest in the world today.
The DIG-S engine produces 97bhp and 142Nm of torque, while CO2 emissions are 95g/km for the manual version and 115 g/km for the CVT version. Maximum speed is 112mph for manual. Combined cycle fuel economy figures for the manual Visia version is 68.9mpg.
Customers are bound to be asking why the Micra has no diesel option. But Nissan dealers can reply that the new petrol is more than an equivalent for a diesel. 'No other petrol-powered compact hatchback can beat its overall efficiency… And it is more than a match for an equivalent diesel,' said Pierre Loing, vice president product strategy and planning, Nissan International SA.
'We have been able to achieve this ultra low CO2 figure in a cost effective package and without the complication of particulate filters needed to clean up diesel engine emissions and which are not entirely compatible with a car that spends much of its life in the city.'
The engine's low emissions means it attracts no annual road tax and is exempt from London's daily congestion charge. Sales start during the summer.