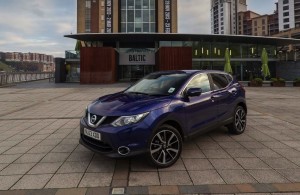 WE'VE already brought you some of the verdicts of the new Qashqai featured in the UK's finest motoring publications, but now it's the turn of video.
And the good news is that some of the UK's most respected video presenters have also given the new Nissan Qashqai the thumbs up.
What Car? has already given the stunning new British-built crossover the much-coveted Car of the Year 2014 award and now they've created a video review too.
Road test editor Steve Huntingford says: 'The Nissan Qashqai is one of those cars that blends tough 4×4 looks with family hatchback running costs. However, while the original Qashqai had the class pretty much to itself when it first came out, the latest version is competing against a host of brilliant rivals.'
But Huntingford concludes the Qashqai is a great proposition for buyers, saying: 'The Qashqai is one the quietest and classiest cars of its kind, as well as one of the most practical and best to drive. Yes, it is a bit more expensive than some of its rivals but it really is worth it, especially when you consider how well it is likely to hold on its value.'
Meanwhile, over at Which?, the Qashqai equally impressed. Their video review concluded: 'On the outside, the Qashqai has really shaped up – it's become much more of a Mr. Bond than a Mr. Blobby. And there's some good news on the inside too – the ride and handling are both better than before, and the car's refinement is better than Korean rivals.
'Is all of that enough to tempt buyers from the Qashqai's many rivals? We'd say so.'