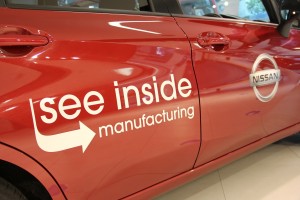 NISSAN has given thousands of young people from across the country a unique behind-the-scenes insight into its UK operations as part of its continued commitment to the Government's 'See Inside Manufacturing' initiative.
Run jointly by the Department for Business, Innovation and Skills and British industry, the nationwide scheme aims to boost the image of UK manufacturing and encourage more young people to study manufacturing-related subjects and develop skills required by employers.
Nissan – Britain's biggest car manufacturer – has played a leading role in the See Inside Manufacturing initiative since it began in 2011. This year the company expanded its involvement by offering an exciting and engaging insight into the inner workings of all three of its three UK divisions: manufacturing, research and development and product design.
And the firm was delighted to play such a central role in helping to foster the next generation of British engineering and manufacturing talent, cementing the nation's manufacturing future.
Among the very best
John Martin, Nissan's Senior Vice President for Manufacturing, Purchasing and Supply Chain Management in Europe, said: 'Nissan is one of the UK's great manufacturing success stories. Our British facilities for design, research and development and manufacturing are recognised to be among the very best in the world.
'The continued success of our UK operations depends entirely on the calibre of the people who work in them, so it's crucially important we identify, encourage, support and inspire the next generation of talent.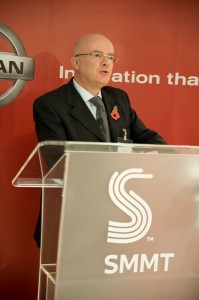 'That's why we have been delighted to support the See Inside Manufacturing initiative for a third year and to once again share our enthusiasm for design, engineering and manufacturing with thousands of young people.'
The company's involvement with this year's initiative began when Nissan's record-breaking Sunderland Plant threw open its doors, giving 1,500 students the chance to see the new Nissan Note in production and the chance to participate in a series of hands-on challenges and team-building exercises on an engineering theme.
Then, the company's European Technical Centre (NTCE) – Nissan's state-of-the-art research and development operation in Bedfordshire – followed suit by allowing local school pupils a glimpse inside its normally off-limits areas before engaging them in a number of activities with an engineering focus.
Finally, NTCE and Nissan Design Europe (NDE) – the design Mecca where ground-breaking models including the Qashqai and Juke crossovers were conceived – collaborated to stage a captivating exhibition at the headquarters of the Society of Motor Manufacturers and Traders in Westminster.
The exhibition culminated on October 24 with a political reception at which Matthew Hancock MP, Minister of State for Skills and Enterprise, underlined the importance of attracting more young people into the automotive sector.
Mr Hancock said: 'The automotive sector in the UK is one of the most exciting and innovative in the world. It's great to see Nissan opening its doors to give young people an insight to the inner workings of the industry.'