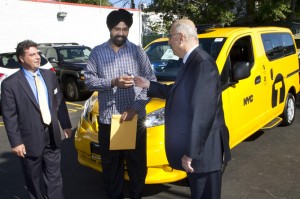 A NEW era in public transportation has begun with the Nissan NV200T taxi arriving on the streets of New York City.
Cab driver Ranjit Singh took delivery of his vehicle from a dealership in the Queens area of the city on October 18.
And the meter on the first fare officially kicked-off at JFK International Airport on October 23, dropping its inaugural passenger near 13th Street and 6th Avenue in Manhattan.
Eight Nissan dealerships in the New York City region now have the NV200T available for purchase. The development marks the next phase in Nissan's commitment to deliver the most innovative, custom-designed taxi experience ever to the people who ride in New York City taxicabs every day.
Andy Palmer, executive vice president for Nissan Motor Company, said: 'The Nissan NV200T demonstrates the company's leadership in advancing global mobility through modern vehicle design and technology.
'From its fuel-efficient powertrain, to its space-saving design and passenger-centric interior, the Nissan taxi is a prime example of innovative spirit that goes into all Nissan vehicles.
'We are excited to see the NV200T now carrying passengers around Manhattan, and look forward to bringing the same NV200T experience to drivers and passengers in new markets outside New York.'
Check out the video report below!