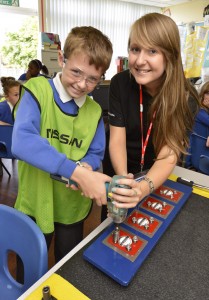 NISSAN is giving British schoolchildren a unique insight into the art of car manufacturing by bringing the company's 'Monozukuri Caravan' to the UK for the first time.
The Nissan Monozukuri Caravan is a hands-on, interactive workshop which educates and engages Primary Schools in 21st century automotive manufacturing and is part of the company's global 'Blue Citizenship' activities.
Launched in 2007 in Kanagawa Prefecture, the birthplace of Nissan, approximately 18,000 students from 300 schools in Japan and Mexico participated in the programme last year, which celebrates Nissan's Monozukuri, the Japanese term for 'the art of making things'.
Now Nissan will take 1,000 children from North East England through a refreshed Monozukuri Caravan tailored specifically for the UK with the help of teachers and pupils at Gillas Lane Primary School in Houghton le Spring, near to Nissan's Sunderland Plant.
The workshops, for Year 6 pupils (age 10-11), are delivered through two sessions. First, the students learn about Nissan and Japanese culture, find out about Nissan's Kaizen culture for continuous improvement, and design their own car. In the second session, they experience Monozukuri for themselves as they take a safety briefing and then try their skills using actual production parts and tools.
The workshops all end with a traditional Japanese Daruma ceremony, where the eyes of a Daruma doll are coloured in to symbolise a project's successful completion, followed by a Tejime ceremony of synchronized hand clapping.
Ian Green, Nissan Senior Training Controller, said: "We set out to create a unique and exciting opportunity for children to discover how Nissan manufactures high-quality cars at high volumes, and to take part in activities which normally would not be available to them.
"We encourage the pupils to think about the importance of the STEM subjects – Science, Technology, Engineering and Mathematics – and show them how everyone can work as a team in an engineering or manufacturing environment.
"We look at how Nissan makes things safely and the children get the opportunity to use actual production tools. They get particularly excited when the box of hammers comes out, and really enjoy removing a dent from a metal panel – a very popular and noisy exercise!"
Following three successful trials, Nissan has 30 courses available for Year 6 children (age 10-11), each lasting around four hours with spaces for 30 children. The courses are free to attend, each pupil receives a goody bag and each school receives a memento of the visit.
Gillas Lane headteacher, Mrs Terry Hambleton, said: "We worked closely with Nissan to help create a fun, educational scheme to engage the region's young people.  Our children thoroughly enjoyed taking part in the resulting Monozukuri Caravan.
"As well as learning about the work of Nissan, they gained first-hand experience of carrying out specific tasks associated with working on a production line.  The children also had the chance to learn about Japanese culture.
"The course is linked to the curriculum, and children get to design a logo, use mathematical skills to create graphs and charts, as well as learning life skills with team-working, perseverance, concentration, co-operation and reflection. The day was well organised and engaging, and the project was a great success. "
The Nissan Monozukuri Caravan builds on Nissan's existing activities with schoolchildren in North East England, which culminate every year with a two-week programme of visits to Nissan Sunderland Plant held under the UK Government's 'See Inside Manufacturing' initiative, which attracts upwards of 2,000 children per year.