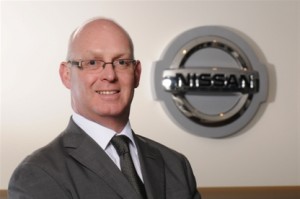 NISSAN Executive Vice President Trevor Mann CBE has been granted the Freedom of the City of Sunderland in recognition of his 'enormous contribution' to the city's economy.
Council members this week voted to confer Honorary Freedom to Mann, who joined the company in 1985 as a team leader in the workforce which launched car manufacturing in North East England.
Now an Executive Vice President based at Nissan's Global Headquarters in Yokohama, Japan, and Chairman of the Management Committee for Africa, the Middle East, India and Europe, his rise to the top has coincided with Nissan Sunderland Plant's growth into the biggest UK car plant of all time and the company gaining a record market share in Europe.
Mann, who was awarded a CBE in the Queen's 2012 New Year's Honours List for his Services to Business in North East England, said: 'I am deeply proud to be conferred with the Honorary Freedom of the City of Sunderland, where I enjoyed living and working for many happy and fulfilling years.
'The honour is a reflection of the many achievements of our UK plant and a mutually supportive partnership spanning three decades between Nissan and Sunderland City Council.
'Of course none of Nissan Sunderland plant's success would have been possible without the dedication and contribution of my colleagues at the plant, so I would like to thank them all for their hard work and outstanding performance over many years.'
Incredibly proud
In conferring the honour, Sunderland City Council noted the many skilled jobs and careers created at the plant and in its supply base under Mann's leadership, as well as the personal role he played in helping the city to develop its own economic strategy.
Councillor Paul Watson, Leader of Sunderland City Council, said: 'The City Council has been incredibly proud of its partnership with the company, and of the benefits and opportunities generated as a result, for the local community and economy.'
Mann added: 'I would like to thank Councillor Watson and his colleagues for this honour. Together we have taken the North East from a region with no history of car manufacturing into an international hub for the automotive industry and I look forward to many more years of successful Nissan production in Sunderland.'