Keeping the wheels turning towards a more sustainable future, Nissan is teaming up with a new and promising generation of entrepreneurs, providing them with zero-emission vehicles to improve their business – while reducing environmental impact.
Michelle des Bouillons is a professional surfer and young entrepreneur whose business focuses on surfboards, accessories and swimwear, all made from sustainable materials. Nissan is making zero-emission mobility a reality for her business with the 100% electric e-NV200 and Nissan LEAF.
This collaboration was a perfect match for Michelle. "Going fully electric was an obvious mobility choice: Surfing takes me closer to nature than any other sport can, and it really has made me appreciate how precious our world is," she says.
"When I started running my own business, I really wanted to make sure that it's done in a sustainable way. With the 100% electric e-NV200 and Nissan LEAF driving feels completely natural. They are both quiet, safe and efficient – and I still get a kick out of the fact that there's zero-emissions when I'm on the road."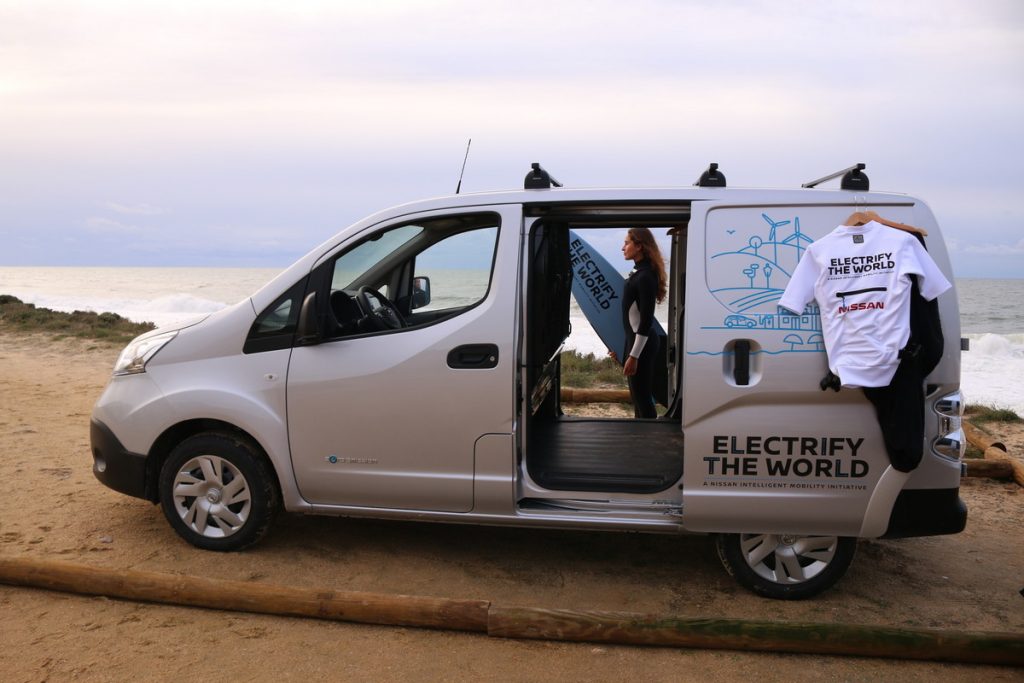 Nissan's 'Electrify the World' signature now features prominently on Michelle's surfboards and swimsuit, and she hopes she can encourage more people to be more sustainable and go electric.
"This collaboration with Michelle is really exciting for us. Together, we are 'riding the same wave' to spread the zero emissions message far and wide," says Dmitry Busurkin, Regional Sales Director at Nissan Automotive Europe.
This is only the beginning. Nissan is looking forward to collaborate with more and more people like Michelle. "There are so many young entrepreneurs who really want to make a positive change and that's why they are asking for sustainable mobility solutions." says Busurkin.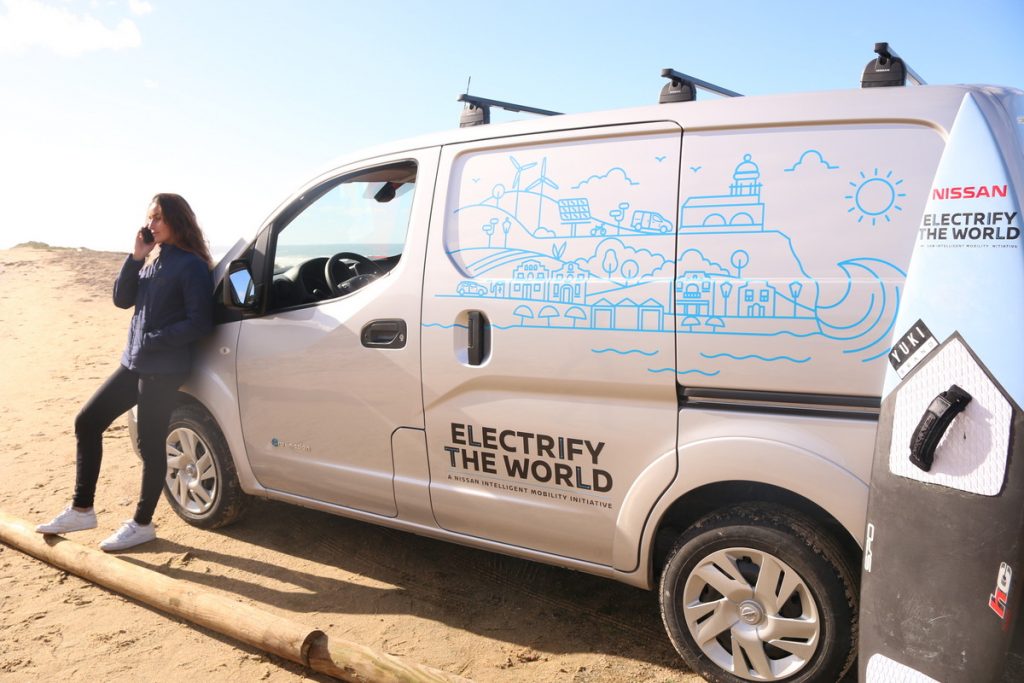 The dependable Nissan e-NV200 is a clever choice; it is fully electric, backed by a 8-year warranty, and has a range of just over 301 km WLTP CITY – which easily covers most business needs. Over 30,000 Nissan e-NV200s have been sold in Europe, with nearly 10,000 delivered to customers in 2019 alone.
The e-NV200 40kWh offers a range of 301km under the Worldwide Harmonised Light Vehicle Test Procedure (WLTP) city cycle, making it a perfect solution for those looking to give their business the spark of electric and sustainable mobility.
Join Nissan's 'Electrify the World' movement by following on Facebook, Twitter and Instagram, and by using the hashtag #ElectrifyTheWorld.
Discover the 100% electric Nissan range on: https://www.nissan.co.uk/range/electric-cars.html
Learn more about the 100% electric Nissan LEAF on: https://www.nissan.co.uk/vehicles/new-vehicles/leaf.html
Learn more about the 100% electric Nissan e-NV200 on: https://www.nissan.co.uk/vehicles/new-vehicles/e-nv200.html