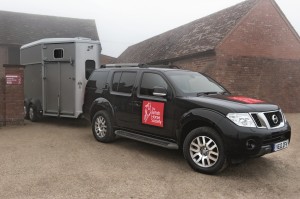 NISSAN has connected with The British Horse Society (BHS) to promote safe and intelligent horse towing.
The initiative will offer BHS supporters the opportunity to learn more about safer horse towing and how to best look after horses during transportation. There will be a range of activities and events.
The new relationship will also provide the equestrian charity's supporters with offers and savings of up to 15 per cent across Nissan's X-Trail, Pathfinder and Navara vehicles. Each vehicle offers BHS supporters a powerful and frugal diesel engine and excellent towing capacities with impressive on-road and off-road capabilities to match.
Together with British Riding Clubs, the BHS has more than 100,000 supporters with many having a genuine need for a reliable 4×4 vehicle that can provide a safe horsebox towing experience.
BHS director of marketing, membership and communications Emma Day said: 'The British Horse Society members are passionate about enjoying horses in the great outdoors so we want confidence in the vehicle that keeps our horses safe.
'That's why we are delighted to be working with Nissan this year to promote safe towing and offer our supporters a great range of highly capable 4×4 vehicles.'
Rachael Gregory, 4×4 product manager at Nissan, said: 'Nissan is constantly striving to improve road safety so we're delighted to be using our towing expertise to help The British Horse Society improve education around towing safety.'
BHS supporters wanting further information or to take advantage of discount offers should contact Nissan customers services on 01923 899334 or visit www.bhs.org.uk/nissan