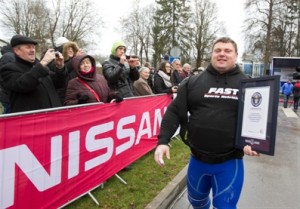 THE WORLD'S strongest man, Zydrunas Savickas, set a new Guinness world record for the 'Most Cars Pulled By One Man' when he towed 12 new Nissan Notes weighing in at a total of 12,941kg.
Savickas, five-times World Strongest Man champion and widely regarded as the one of the greatest strongmen of all time, only had one attempt to set the new record. Wearing a specialised pulling harness and rope arrangement, he pulled the 12 Nissan Notes over five metres accomplishing the feat in a staggering 32.9 seconds.
Despite an extra 45 litres of loading space and enough legroom to accommodate the 6ft 2ins strong man, the all-new Nissan Note is 21kg lighter than its predecessor. Which is just as well since Savickas weighs in at a staggering 170 kg!
Held in Druskininkai, Lithuania, this world record attempt marked the end of the Lithuanian Car of the Year test camp with crowds turning out from all over the country to see their national hero Savickas set the new record.
Savickas was presented with an official certificate from from Guinness World Records representative Jack Brockbank.
The large crowd not only got to witness the record-setting moment but were also able to admire the all new Nissan Note. Launched earlier this year and built at Nissan's Sunderland plant in the UK, the car sets new standards for sector-first technology, practicality, design and value for money.
Always aiming high
Taina Erkkilä, Communication Director of Nissan Nordic Europe, said: 'We at Nissan like setting records and are always aiming high. Today we are delighted to have been able to help Zydrunas set another world record and to see so many people turn out to support him. It was a great way to mark the end of the Lithuanian COTY camp.'
On the completion of the record attempt, Savickas commented: 'It is always great to set a new record. Once I got into my stride, pulling the 12 Nissan Notes was fine. Obviously, a big thank you to Nissan for helping me set the record and making it all possible.'