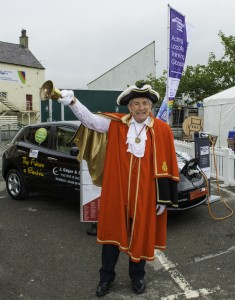 THE all-new Nissan LEAF was the star of the show at the recent Whitehaven Festival…topping the bill alongside the likes of McFly.
The British-built 100 per cent electric model took centre stage thanks to the massive event's sponsors, Britain's Energy Coast, which is planning to install a network of EV charging points across the region as part of its economic regeneration plans.
With help from award-winning local dealer J Edgar Nissan in Rowrah, one LEAF was positioned at the heart of the main VIP area, where it was presented to dignitaries including local town mayors.
Another two LEAFs were stationed in the middle of the Festival site itself, beside the main marina where members of the J Edgar team were on hand to explain its benefits and arrange test drives.
These two cars also played a role in the opening of the event, with the official ribbon-cutting ceremony taking place on the bonnet of one before invited guests, including Nissan's own EV Manager, Paul O'Neill, said a few words.
Over the course of the weekend, the cars were seen by a staggering 250,000 festival goers and dozens of test drives were arranged.
Jason Edgar, Dealer Principal at J Edgar Nissan, said: 'It was a fantastic event and it was amazing just how much interest there was in the LEAF.'