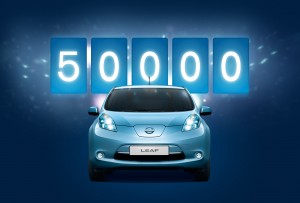 THE 100 per cent electric Nissan LEAF this week marked another milestone as it passed the 50,000 sales mark, reinforcing its position as the best-selling electric vehicle of all time.
The owners of Nissan LEAF around the world have now covered a total distance of more than 160 million miles, greater than the distance from the earth to the sun.
All of these miles were covered with zero exhaust pipe emissions, contributing to efforts to reduce levels of harmful CO2 and particulate matter in cities.
The highest mileage LEAF globally has been revealed as a Japanese customer who has covered more than 108,000 miles, in a car that has only been on sale for two years.
In 17 European countries, 7,000 cars are being driven every day. One customer in Spain has already clocked up over 26,000 miles in one year.
This is far beyond an average annual mileage and the rapid build-up of mileage is testament to the reliability of the award-winning EV.
This is further demonstrated by its extraordinary customer satisfaction rating of over 95 per cent, the highest of any Nissan vehicle.
Strategic locations
In the last 12 months Europe registered significant growth of the CHAdeMO quick charging infrastructure. The number of these chargers which allow batteries to be recharged from empty to 80 per cent battery capacity in around 30 minutes has rocketed from 158 to 601 in the last 12 months.
The plans already in place are to more than double by the end of this year the number of installed quick charging installations. These units are being installed at strategic locations such as shopping centre car parks or motorway service stations, allowing the 50,000 Nissan LEAF owners to push the electric vehicle revolution even further.