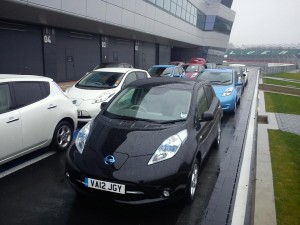 TODAY Nissan Insider chats to Paul O'Neil about his experiences of driving a Nissan LEAF. Paul is category manager for electric vehicles at Nissan so naturally has plenty to say about the company's all-electric hatchback. Here, Paul shares his thoughts with us…
February 1 marked three months since the O'Neill family took delivery of a Nissan LEAF, so it feels like a good time to reflect on how the car has fitted into our lives since. And, judging by the 3,598 miles covered – more than most cars – the answer is extremely well.
Previously I'd had limited exposure to the LEAF, so when the chance to lease one came up I was very keen. The LEAF replaced our second car, but it can now truthfully be classed as the main car in a two-car household. Like 92 per cent of LEAFs in Europe, it is driven virtually every day, and is suitable for the vast majority of journeys we make. Whenever it can be driven it is driven, simply because we've fallen in love with the near silence, the smoothness, the ease of driving, and the responsiveness.
We mainly charge it at home, using the Polar charging unit still available for free in eligible Plugged in Places until March 31. It's easy to operate, and used mainly to charge the car overnight or for top-ups during the day at weekends.
I have only charged the LEAF at Nissan HQ a few times, but thanks to an enlightened employer, my wife is able to charge at her workplace for free – netting her own dedicated parking space and reducing our overall fuel bill into the bargain.
Detective work
The good news is that there are many more charge points around than I thought; the bad news is that it can take some detective work to find them. There appears to be no single website which maps all of the charge points. However, the Open Charge Map offers a crowd-sourced solution which has already resulted in almost 11,000 charge points being documented globally.
I thought the reason that LEAF owners needed fat wallets was to carry around all the cash saved in fuel, road tax, BIK and the Congestion Charge – in fact it's to carry around the plethora of RFID cards needed to operate the various providers' charge points – I'm up to four at the moment! The good news is that there is strong evidence that a pay-as-you-go system will soon be in place.
But once you have plugged in it's worth it. One of the unexpected pleasures of LEAF ownership is watching the interest of passers-by when the car is charging in public. There seems to be a fascination which convinces me that people are ready to be receptive to electric cars on a mass-scale. After all – is there anybody out there who enjoys a trip to the petrol station?
I recently had the opportunity to drive a petrol hatchback from a rival manufacturer which has been very well received by the motoring press. For sure it was a competent, well-executed car. But when I turned it on, it was with a key, not a button. And when it was on, it made noise. And when I selected reverse, there was no rear park camera. When driving, I had to change gear. Pre-heated using a smartphone? Not a chance. Here was supposedly the pinnacle of the internal combustion-engined C-segment hatchback, and driving it after a LEAF, it just didn't feel special.
If you're reading this, the chances are you understand the pride and pleasure that comes with driving something 'a bit special', in whatever form that may take. LEAF delivers exactly that feeling for me right now, but in a different, more modern, more relevant way. The internal combustion engine will be with us for a while, but for me the days of the term 'petrolhead' must surely be numbered.