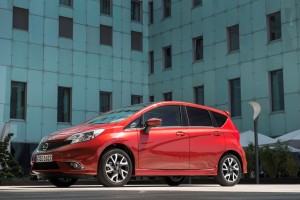 THE innovative and distinctive Nissan Note range has been boosted by the arrival in showrooms of the DIG-S.
Powered by Nissan's state-of-the-art supercharged petrol engine, DIG-S promises best-in-class efficiency and low running costs to match its bold design and smart technology.
The advanced direct injection engine delivers the economy and emissions of a diesel with the refinement and responsiveness of a 1.6-litre four-cylinder petrol engine… yet the low-friction, lightweight and highly efficient three-cylinder DIG-S displaces just 1,198cc.
Despite its compact overall dimensions, the DIG-S (standing for Direct Injection Gasoline – Supercharged) produces 98PS and 147 Nm of torque for CO2 emission and fuel efficiency figures of 99g/km and 4.3 l/100 km.
This advanced engine features a range of innovative features to ensure it not just meets but exceeds customer expectations. An offset crank pulley counterweight smoothes out the imbalances inherent in a three-cylinder engine while the adoption of the Miller Cycle combustion process allied to the advanced supercharger boosts efficiency.
The Miller Cycle, patented by American engineer Ralph Miller in the late 1950s, introduces a two-stage intake stroke (thus producing, in effect, a fifth stroke) by keeping the intake valve open for longer than in a conventional engine. Coupled with a higher compression ratio and with the supercharger boosting output at low engine speeds, the result is a more complete combustion phase.
More efficient than ever
Further enhancing efficiency, the supercharger has an electronic clutch which allows it to be disconnected from the engine when not required further reducing power losses through friction.
As with the Note's 80PS version of the three cylinder 1.2-litre unit and the 90PS 1.5-litre dCi turbodiesel, the DIG-S has Nissan's Idle Stop/Start system that cuts the engine completely when the car is stationary.
DIG-S models are available with the choice of either a five-speed manual transmission or an optional XTronic. New low-friction technology means the XTronic in Note is more efficient than ever, producing just 119 g/km of CO2.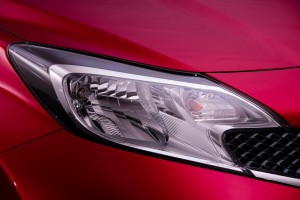 The arrival of the DIG-S completes the Note's powertrain line-up and is expected to represent 25 per cent of sales in Europe.
At the same time as DIG-S models arrive in showrooms, Nissan is introducing a Dynamic Styling Pack (DSP) which is available from Acenta grade.
Both the DIG-S and the availability of the Dynamic Styling Pack enhance what's already a strong contender in the heart of the B-segment. Built in Europe at Nissan's Sunderland Plant in the UK, new Note brings advanced technology and a genuinely premium feel to the market.
Geraldine Ingham, Chief Marketing Manager, Nissan Europe, said: 'Nissan Note has already made a real impression in Europe with strong sales in all markets. The arrival of the hugely effective DIG-S engine and the added design enhancements offered by the Dynamic Styling Pack will further cement its position as a genuine force in the B segment.'