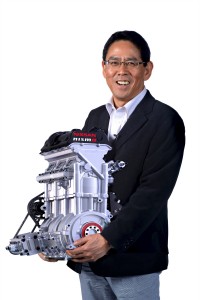 NISSAN will not only break new ground with the unique electric power plant aboard the Nissan ZEOD RC at Le Mans this year, but the accompanying internal combustion engine is set to revolutionise standards of performance and efficiency.
The Nissan ZEOD RC will become the first entry at Le Mans to complete a lap of the Circuit de la Sarthe under nothing but electric power in June.
A single lap of each stint (a fuel 'stint' lasts approximately one hour) will be electrically-powered, then the new Nissan DIG-T R 1.5 litre three-cylinder turbo engine will take over.
The incredibly small engine weighs only 40 kilogrammes (88 pounds) but produces an astonishing 400 horsepower. The base engine is only 500mm tall x 400mm long x 200mm wide (19.68″ x 15.74″ x 7.78″).
While the engine is technically too heavy to take as carry-on luggage on a plane, it would easily fit inside the luggage guides seen at major airports around the world.
Revving to 7,500rpm, the Nissan DIG-T R produces 380Nm of torque. At a ratio of 10 horsepower per kilogramme, the new engine actually has a better power-to-weight ratio than the new engines to be used in the FIA Formula 1 World Championship this year.
With the entire concept of the Nissan ZEOD RC focussing heavily on downsizing and efficiency, Nissan turned to new lubricants partner Total to help develop the engine. The French lubricants manufacturer has worked closely with Nissan engineers to develop fuel and lubricants to maximize the potential of the engine.
The Nissan ZEOD RC will occupy 'Garage 56' at this year's Le Mans 24 Hours, an additional entry reserved by the Automobile Club de l'Ouest for new and ground-breaking technologies never previously seen at the classic French endurance event.
Lessons learned from the development of the revolutionary racecar will also be used in the development of Nissan's planned entry into the LM P1 class of the FIA World Endurance Championship in 2015.
Lessons learned
Darren Cox, Nissan's Global Motorsport Director, said: 'Our engine team has done a truly remarkable job with the internal combustion engine.
'We knew the electric component of the Nissan ZEOD RC was certainly going to turn heads at Le Mans but our combined zero-emission on demand electric/petrol power plant is a stunning piece of engineering.
'Lessons learned from the development of the engine will be seen in Nissan road cars of the future.'
The Nissan ZEOD RC will undergo an extensive test programme over the next four months before it makes its race debut at this year's Le Mans 24 Hours on June 14-15.