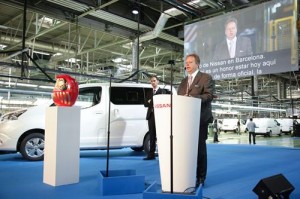 NISSAN has started the production of its second all-electric vehicle – the e-NV200 – which will be available as both a passenger vehicle and light commercial van. The ceremony was attended by Spanish Ministry of Industry, José Manuel Soria, Catalan President, Artur Mas; and the Mayor of Barcelona, Xavier Trias, who were welcomed by Nissan's Chief Planning Officer, Andy Palmer.
The Nissan plant in Barcelona will be the global production site for this ground-breaking zero-emission vehicle, which will be available as a light commercial van, passenger vehicle and electric taxi.
Representing an investment of €100 million in Nissan's Barcelona Plant, as part of a wider €431 million investment in its Spanish operations, the e-NV200 will initially be exported to around 20 international markets, including Japan. Just as with the Nissan LEAF introduction, the number of markets will grow after the initial launch, to continue the company's sustained electric vehicle expansion.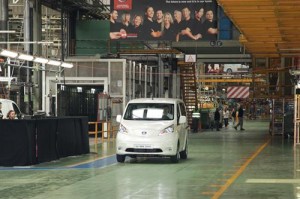 Nissan Motor Co. Ltd. Chief Planning Officer Andy Palmer hosted the VIP guests at the event, adding: "This is a great landmark day for Nissan, starting production of our second electric vehicle. This is at a time when EV's are now recognized as mainstream technology, many competitors
are only just starting to launch their first EV and where Nissan has clear first mover advantage. We're proud that the Nissan LEAF is the world's best-selling electric vehicle with more than 110,000 delighted customers enjoying the quiet and smooth ride of an EV."
Barcelona will be the first city in the world to introduce the e-NV200 as a 100% electric taxi, an initiative Palmer believes is vital for the city, continuing: "This e-NV200 taxi has renewed significance in the wake of record levels of air pollution in London and Paris. Bringing a significant number of zero emission vehicles to Barcelona's streets will ensure cleaner air for every citizen, visitor and tourist, and we're confident that forward-thinking councils everywhere will be clamoring to bring these benefits to their municipalities in the coming years."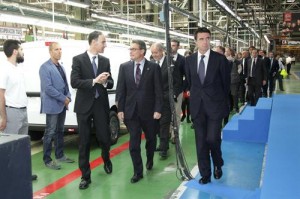 For the Mayor of Barcelona, the start of production of new all-electric van and the partnership between Nissan and Barcelona "is part of a strategy in Barcelona and its metropolitan area in order to consolidate Barcelona as the centre of a new urban economy model, based on innovation, technology and sustainability. In our city, we are strategically targeting sectors that are essential for the future, and electric vehicles are one of them. Furthermore, we are working to generate wealth in our city, strengthening our economy and the industrial sector; thus making a very important step ahead that will improve the quality of life for residents".
Frank Torres, managing director and vice president of Nissan Spain Industrial Operations said: "Barcelona has the honour of producing Nissan's second 100% electric vehicle, and this is a result of many years of hard work and quality improvements from the team here. This will be only the second time we have produced a model in Spain for export back to Nissan's home market in Japan and that is a fantastic achievement by my colleagues at the plant."
Barcelona is the only Nissan plant in the world producing the electric version of e-NV200, which means that it will be exported to all over the world, Japan included. The first vehicles exported to these markets will set sail in June.