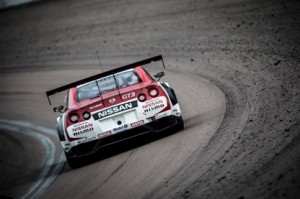 SIR CHRIS HOY and Alex Buncombe finished round three of the British GT Championship in 13th place at Rockingham this Bank Holiday Monday. Early race contact damaged the suspension of the No.80 Nissan GT-R NISMO GT3 making it a tough two hours for the two Nissan drivers. 
The grid for the race was set with an aggregate time from Sunday's two qualifying sessions. Al Buncombe stormed to fourth place in his session whilst Sir Chris put in a top time to take the pair to an eighth place starting position.
British GT is a Pro-Am series and it was the turn of the amateur class drivers to take the start. Chris certainly didn't disappoint, making a storming start from eight place on the grid.
"I got a great start and made up a few places," explained Chris. "The first corner at Rockingham is part of the banked oval so I feel at home there as it's just like a velodrome! Unfortunately I then got a bump from behind at turn two, which pushed me wide onto the grass and about 10 cars came flying past me. My brief from the team is always to bring the car back in one piece so that was a great start! I set to work regaining positions and had a great time for about 20 minutes but then the tyres started to go off. I then got hit again by a Porsche and really struggled after that."
With Chris reporting that he had opposite lock through most of the corners, Al knew he was in for a tough race when the driver changeover was completed.
"Something was definitely wrong with the right rear," said Al. "I was really struggling to keep the car on track for most of my stint but I knew I needed to carry on to try to get into the top 10 and therefore the points."
Despite the best efforts of both drivers, 13th place was the highest they could manage.
"Of course it's disappointing," said Chris. "But it's all good experience and I still enjoyed every minute of it. That was the longest stint I have ever done in a race so I was pleased that I was able to maintain my concentration for that long.
"The next race is at Silverstone," he concluded. "That's our kind of circuit so we'll be able to make amends for this weekend."