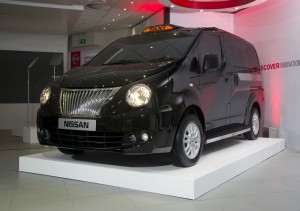 COVENTRY-based ADV Manufacturing will be responsible for the final assembly of Nissan's new Taxi for London, due to hit the streets of the Capital later this year.
It represents a joint investment with Nissan of £6 million to build a brand new, dedicated taxi manufacturing facility in Coventry.
Andy Palmer, Chief Planning Officer and Executive Vice President of Nissan Motor Corporation, revealed the news as part of his address to students at Coventry University, where he was delivering the prestigious Bugatti Lecture on the future of motoring.
ADV will build the new production facility for Nissan's new Taxi for London adjacent to its existing premises, with a view to delivering the first petrol-engined versions in December 2014.
An all-electric variant of the black cab, whose final design was unveiled in London earlier this year, will be launched by Nissan in 2015.
ADV was selected as the final assembly partner on the basis of its expertise and track record in the production of specialist vehicles, and on its ability to meet Nissan's rigorous manufacturing standards.
The base vehicle will be sourced from Nissan's Barcelona factory and shipped to the ADV plant in Coventry for final assembly. The extensive taxi transformation includes new bodywork, taxi interior refit and revised suspension and steering.
Andy Palmer said: 'Our new Taxi for London is part of a wider, international taxi programme that forms a key part of Nissan's global strategy, so we are naturally being very prudent in selecting our partners. ADV has demonstrated that it has the proficiency and capability to deliver what we believe will become a new icon for London.
'We are pleased to be reinforcing once again our commitment to the British automotive industry and the fact that our black cabs will be rolling off the production line in Coventry, with its long history in the taxi business, is an added bonus.'
Nissan Motor GB managing director, James Wright, said: 'We are delighted to be working with ADV as our new partner in the Taxi for London programme and we look forward to working together to deliver the most comfortable, efficient and functional black cab London has ever seen.'
Great news
Nissan is forging ahead with its pioneering work in the sustainable motoring field, developing a 100 per cent electric taxi – the e-NV200 – which it aims to have on the streets of a UK city in 2015.
Brendan O'Toole, CEO of ADV Manufacturing, said: 'This is great news for ADV and for the City of Coventry.'
Business Secretary Vince Cable said: 'Nissan has helped drive a renaissance in the British car industry with innovative models like the Qashqai and LEAF, so it is good news the company has chosen to assemble its new taxi in Coventry.'