SIR CHRIS HOY left no doubt regarding his intention to go all the way in GT racing yesterday with a professional performance at the British GT season-opening weekend.
The six-time Olympic gold medal-winner made his debut in the Nissan GT-R NISMO GT3 in front of a big Easter Monday crowd at Oulton Park in Cheshire.
The Pro-Am status of the Avon Tyres British GT Championship calls for the non-professional driver to qualify for and take the start of the first of the weekend's two one-hour races. Chris qualified the No.80 Nissan GT-R NISMO GT3 in a very credible 14th place on a grid of over 30 cars.
When the race got underway Chris made a storming start and was up three places to 11th by the end of the first lap. Throughout his run he held off a strong challenge from a hard-charging Ferrari before pitting from ninth place to hand the GT-R over to Alex Buncombe.
Unfortunately the safety car came out at that point and split the race in two. Buncombe held ninth place but was a lap behind the leaders. He fought hard during the closing laps and crossed the line in ninth place at the chequered flag.
Commenting after the race Hoy said: "That was brilliant fun! There were a few exciting moments, especially when I got a touch from another car but he went off onto the grass. My rear view mirror was full of Ferrari for most of my run but I just focused on what I was doing and made sure I did the simple things correctly. It's a beautiful sunny day here, there's a great crowd and I feel like I'm a racing driver!"
"I've definitely got the bug!"
Buncombe was at the wheel for the start of race two and had a strong and relatively uneventful run to 13th place before it was Chris' turn to take the wheel.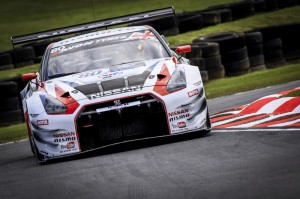 "I had a problem pulling away from the pits," said Hoy. "I lost a few seconds there and when I got onto the track I got forced onto the dirty stuff at Cascades and lost a few more seconds. The Safety Car came out during my run and I got caught up behind two GT4 cars who didn't seem interested in keeping up with the pack so that was frustrating."
When the Safety Car pitted with just six minutes to go Chris went on a charge, passing three cars on the run to the flag and taking 13th place across the line.
"Although the end results don't say much we're pleased with how the weekend went," said Buncombe. "This isn't a track that suits the GT-R but we got the best out of it and we'll have our turn in future races. I was really pleased with the job Chris did today. He did even better than I expected so I'm really chuffed with his performance."
"I've had an absolutely brilliant weekend," concluded Hoy. "It's a privilege to be here. I really enjoyed it and now I can't wait for Rockingham. Those two races have just confirmed how much I enjoy this. I've definitely got the bug!"