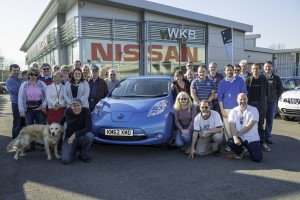 A GATHERING of electric car enthusiasts drew drivers from far and wide to Waterlooville in Hampshire earlier this month.
Organisers of the South Coast Electric Drivers meet had expected a line-up of the usual suspects from Dorset, Hampshire and Sussex.
But they were amazed when the event, held at WKB Nissan in Elettra Avenue, drew more than two dozen fans of mains-powered motoring from as far afield as Cornwall and Yorkshire.
The vast majority of those attending were owners of the Nissan LEAF – the world's best-selling 100% electric car – and a healthy number of would-be LEAF owners turned up to pick their brains.
The LEAF – a practical family hatchback – can cover 124 miles on a single charge and costs about 2p per mile to run.
SCED organiser and Nissan LEAF owner Grant Thomas said: "I'm absolutely delighted so many people have made the effort to come along and am particularly pleased to see people have come so far.
"These meets don't happen very often but they're really about knowledge-sharing and a chance for experienced drivers like myself to meet some of the newer ones and share tips and experiences."
He added: "You get people who come along who've just bought an electric car and who want to find out more about charging when out and about.
"You also get people who are interested in making the switch to an electric car but who still have some reservations and who want to take an opportunity to talk to experienced drivers.
"Get-togethers like this are a great chance for people to be able to come to a dealership and speak to someone with no loyalty or ties to a particular brand and ask them what life with an electric car is really like."
Andrew Fenwick-Green, who has been a Nissan LEAF owner for three months, travelled 278 miles from his home in Barnsley to attend the meet.
He said: "I wanted to come down just for the hell of it and to meet some of the people I've met on the electric car forums.
"Having a LEAF, I knew the journey would cost me nothing other than time, so I thought why not?"