THE UK's top performing Nissan dealers have been honoured for their outstanding efforts in the brand's annual awards.
Nissan Managing Director, Jim Wright, presented the awards in front of hundreds of Dealer Principals and senior figures from across the network at a gala dinner in Bratislava.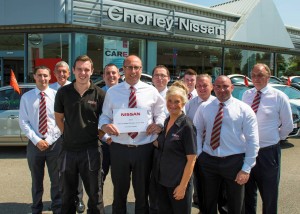 And he took time to pay tribute to the winners, and the many other close contenders, for the enormous contribution they and their teams had made to Nissan's best year ever in the UK.
'There were some fantastic performances across the network this year and everyone at the successful dealerships should feel rightly proud of their achievements,' he said.
The biggest prize of the night, Overall Retailer of the Year, was shared by three 'stand-out' dealerships: Wessex Garages in Cardiff, West Way Aldershot and JS Holmes in Wisbech.
Prestigious award
And both Wessex Garages and JS Holmes went on to further glory when they also picked up prestigious Customer Quality Retailer of the Year awards along with J Edgar Nissan in Rowrah, Cumbria.
Vehicle Sales Retailer of the Year awards went to Chorley Nissan's Chorley outlet, Glyn Hopkin in Watford and F J Chalke in Wincanton.
Meanwhile, Parks East Kilbride, Arnold Clark Perth and Ames Nissan of Thetford took home Aftersales Retailer of the Year plaques.
Special tribute was also paid on the night to Bristol Street Motors in Darlington, which was named the year's most improved dealership.
The picture on the home page of Nissan Insider shows the staff of Wessex Garages celebrating, while above, the Chorley Nissan team show off their trophy. Below, Nissan GB Managing Director Jim Wright presents representatives of the award-winning dealerships with their trophies.