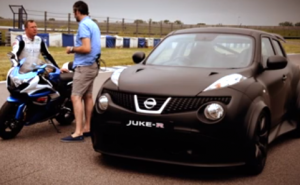 IT'S THE ultimate pub argument – which is faster, a superbike or a supercar? Well, the team at Blackball Media – publishers of Car Dealer magazine – have carried out a very exciting test to find out.
And this is no ordinary supercar they've managed to secure – this is one of only four Nissan Juke Rs in the world. Built as a marketing tool to promote the manufacturer's new Nismo range, the mad matt black crossover boasts the engine and running gear from a Lamborghini-slaying Nissan GT-R.
With 485bhp and 588Nm of torque produced by the twin turbo-charged 3.8-litre V6 engine, the Nissan is capable of hitting 60mph in just 3.8 seconds and on to a top speed of 160mph.
With stats like that a pretty special bike was needed to compete – and more importantly a talented rider too. Luckily the team managed to come up trumps on both counts with a Suzuki GSX-R1000 ridden by none other than three times British Superbike Championship title winner John Reynolds.
The former world superbike and Isle of Man TT racer knows a thing or two about making two-wheeled machines move quickly – and there was no doubt this test would need just that. The bike certainly boasted the right minerals too – 185bhp, a top speed of 185mph and a 0-60mph time of sub 3.0-seconds.
Head-to-head
For the race, the Blackball team headed to Rockingham Raceway in Corby and took to the Lakeside infield track for a head-to-head time trial.
Reynolds would be first with three standing-start timed laps and we'd take the fastest of the three. Next up would be one ham-fisted journalist in the elongated shape of Blackball MD James Baggott in the four-wheel-drive Nissan.
Whereas the bike would be slower in the corners, the Nissan would be quicker with its wider, race tyres and four-wheel drive, hampered only by the inability of the driver strapped into the four-point harness. Use of the Juke R's launch control was forbidden.
However, the 0.67-mile circuit was made up of a combination of slow and fast corners and lacked a long straight for either the Juke R or GSX-R to get into its stride. Find out who won this very special race by watching the video.