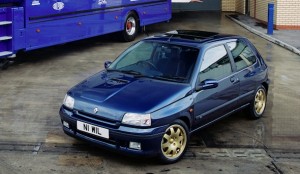 IF YOU were hoping the Nissan Nismo and Williams deal will spawn a spiritual successor to the Clio Williams, it looks as though you'll be disappointed.
Nissan global marketing chief Simon Sproule has said that those wanting a blue Nissan with gold wheels will be disappointed.
Nissan announced last week that its global performance brand, Nismo, would be collaborating with Nismo on road cars, but there were few details of what the tie-up meant until now.
'That colour scheme is iconic and the Brits especially love blue cars with gold wheels like the Clio Williams and Subaru Impreza,' he said.
'However, that doesn't really work for our brand. For a start the Nismo colour palette is red, white, grey and black – so as much as I like the blue and gold it just wouldn't work.'
In an interview with AOL Cars, Sproule also ruled out using the Williams badge on the back of Nissan models.
'It would be so wordy and complicated,' he explained. 'We already have Nissan and then Nismo badges, to add Williams too would be a big mouthful.'
So exactly what does the Williams Nismo tie up actually mean? Well, it certainly won't result in breathed-on engines by the F1 experts. However, the two firms will be sharing engineering expertise.
'Like we work with Brembo for brakes and Dunlop for tyres, Williams will form part of our armoury and will help with aerodynamics, weight reduction and chassis tuning for our road cars,' explained Sproule.
Some exciting things
'We do plan to put our engineers in a room with their engineers. Put these sort of guys together in a room and they chat and from that comes ideas. From those conversations we expect some exciting things.'
Sproule also revealed that Nissan was seriously considering returning to the LMP1 class at Le Mans.
'Our engineers would love to return to LMP1 and there's a lot of desire for that in the company,' said Sproule. 'For now we are concentrating on the ZEOD RC which will be based out of garage 56 next year, but who knows after that.'