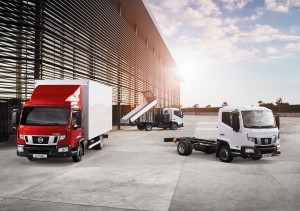 NISSAN is reasserting its intention to become a key player in Europe's light commercial vehicle sector with the launch of an all-new and thoroughly modern medium-duty truck.
The new NT500 tops the brand's broad LCV line up and promises high levels of driver comfort and effective cost of ownership from a versatile and durable chassis cab. It offers a wide variety of wheelbases with gross vehicle weights (GVW) starting at 3.5 and rising to 7.5 tonnes and it's available with two different engines, three transmissions and three model grades.
With a modern truck design offering perfect ergonomics, driving comfort and cabin visibility, the NT500 has low running costs and a warranty period of 36 months. Replacing the Atleon in the Nissan LCV range, the NT500's service maintenance period has been extended from 30,000 to 40,000 kilometres with service-free wheel bearings.
The NT500's driving position provides unique visibility in the light duty truck segment. A commanding driving position is achieved by placing the cabin above the engine, which, combined with wide visibility angles, allows the driver to make safe and accurate manoeuvres in small spaces.
The NT500 features an advanced and functional interior with numerous, useful and accessible storage locations creating the roomiest cabin in the 3.5t segment. Bold innovations include a multifunctional display, the advanced NissanConnect navigation system, cruise control and Hill Start Assistance.
The new engine range – two versions of the reliable ZD30 diesel engine with 150 and 177hp – is compliant with Euro6 emissions regulations, while three transmissions are available. The robust new chassis is designed to support straightforward and flawless conversions.
Thoroughly modern
Andy Palmer, Executive Vice President and Chief Planning Officer, said: 'With NT500 joining NT400 Cabstar, NV400, Primastar, NV200 and Navara – not to mention the imminent arrival of the pure electric e-NV200 van – there can be no doubt that Nissan has one of the widest and most versatile ranges of commercial vehicles.
'We are also implementing significant improvements to our LCV dealer standards and developing a number of dedicated Business Centers across Europe to ensure the quality of our trucks and vans is matched by the back up service we provide.'