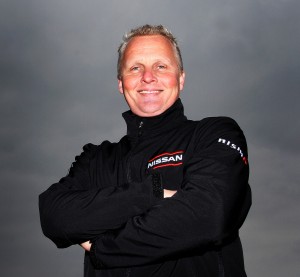 NISSAN has announced an ambitious, social media-led project, Nismo #Jukeride.
In collaboration with European motorsport enthusiasts and ex-Formula 1 driver Johnny Herbert, Nissan will build a state-of-the-art Juke, with its own Skycam helicopter, designed to help Nismo's (Nissan Motorsport) team of talented young athletes to push their performances to new heights, and put fans in the heart of thrilling driving action like never before.
Taking part in building the ultimate technological tool for tracking, analysing and enhancing driving performance, fans will even be able to help decide its final name during the phase of the project.
The unique car continues Nissan's innovation in this segment following in the footsteps of the Juke Box, the world's ultimate mobile sound system, and the Juke-R, which harnesses the power of a GT-R in the body of a Nissan Juke to create the world's fastest crossover.
Mentored by Johnny Herbert, with the support of a team of apprentices and the wider social media community, Nissan will push a Juke to its limits. By kitting the car out with the latest digital age technology, the team will work together to create a unique, socially-advanced car with the Skycam, a companion remote control helicopter which docks on the roof.
The Skycam, equipped with cameras, will provide a unique point of view as well as high-precision environmental data, including ground surface, air and object trajectory analysis, to monitor every move a car makes.
Closer to the action
The resulting data will enable Nismo drivers to monitor their performance, improve their driving skills and become the best they can be. The Skycam will also capture unique content at motorsports events, giving fans access to never-before-seen perspectives of races and bringing them closer to the action.
Johnny Herbert kicks off the project today, by inviting motorsport enthusiasts from across Europe to share their ideas and help inform the build via social networking channels.
Fans will be able to submit ideas on Twitter by using the hashtag #jukeride. From these submissions, Johnny Herbert will work with a team of 10 apprentices who will actively participate in the build process, using social technologies such as Google Hangouts and their own networks of followers to determine the technology used in the car, as well as crowd source its name. Johnny introduces the project in a video released today at the Experience Nissan site.
One of Britain's best-known drivers, Johnny Herbert's many successes include three Formula 1 wins as well as notably achieving first place at Le Mans in 1991.
Johnny works closely with Nissan mentoring drivers from Nissan's GT Academy – the virtual-to-real project created by Nissan and PlayStation that brings the dreams of Gran Turismo players to life. Coupled with his extensive experience reporting on motorsports events in the broadcast world, Johnny is perfectly placed to offer his insight and support to the apprentices as they build this unique car.
Ultimate technological tool
Gareth Dunsmore, Marketing Communications General Manager, Nissan in Europe, commented: 'Over the next three months we're going to transform the Juke, the ultimate compact crossover, into the ultimate technological tool for tracking, analysing and enhancing driving performance.
'We are really excited to work with Johnny and some of our most passionate fans to build what should be one of the most high-tech cars in the world, and in turn use it to push our Nismo drivers to their limits.'
Johnny Herbert said: 'This really will be a car like no other. It will have its own helicopter, equipped with cameras, that takes off from the roof to provide a unique perspective on Nismo drivers and give unparalleled insight into their performance.
'I'm really excited about being involved in this project and helping the Nissan team, along with the apprentices, to create and build something that is genuinely going to improve driving performance.'
Project Nismo #Jukeride is under way now – you can share your ideas, or simply follow its progress at the Experience Nissan site or by using the hashtag #jukeride.