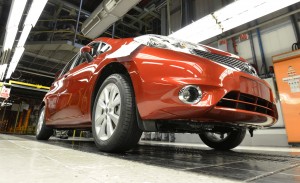 2013 was another year of innovation and excitement for Nissan – and here at Nissan Insider we were with you every step of the way.
Whether we were attending the world's most high-profile motor shows; chatting to the company's top executives; or reporting on the activities of some of the hard-working dealerships in the Nissan network, we certainly did our best to keep you up-to-date with the news.
Of course, all the stories, pictures and videos we produced during 2013 are still online if you fancy reliving some of the highlights of the year.
But, as is customary on Nissan Insider at this time of year, we have compiled a brief video run-down of some of the main events of 2013. Part two covering July to December is now online too.
Normal service will be resumed on the website on Thursday, January 2nd, 2014, when we'll be bringing you regular daily updates and weekly bulletins once again.
January
To get 2013 under way, some of the UK's top motoring journalists travelled to Barcelona to get a taste of Nissan's first mainstream production Nismo model – and experience some surprises too!
Writers from the biggest motoring magazines and websites were flown to Spain to sample the Juke Nismo – and deliver their all-important verdict.
Autocar, Auto Expess, Evo and Top Gear were all represented as the scribes tried out the new performance crossover on a host of stunning roads in southern Europe.
February
In February, ITV4 started to broadcast a series of six programmes covering the innovative Nissan PlayStation GT Academy contest.
As regular readers of Nissan Insider will know, GT Academy challenges the conventions of motorsport by taking some of the fastest PlayStation gamers in the world and fast-tracking one of them to become a professional racing driver with Nissan. The series of high-octane, character-driven programmes was a must-watch for anyone interested in the world of motorsport.
March
Two of Nissan's top executives led the presentation of the company's new product assault at the Geneva Motor Show in March
Executive Vice President Andy Palmer and Senior Vice President, Sales and Marketing for Nissan in Europe, Paul Willcox, were the men tasked with explaining the many exciting developments going on within the company.
April
In April, Nissan announced an ambitious, social media-led project, Nismo #Jukeride.
In collaboration with European motorsport enthusiasts and ex-Formula 1 driver Johnny Herbert, Nissan planned to build a state-of-the-art Juke, with its own Skycam helicopter, designed to help Nismo's (Nissan Motorsport) team of talented young athletes to push their performances to new heights, and put fans in the heart of thrilling driving action like never before.
May
In May, we brought you a sneak preview of the new Nissan Note – courtesy of Herve Genin, the new Nissan Note Product Manager for Nissan Europe.
Asked what's changed compared to the current incarnation of Note, Herve told us: 'It's very easy – everything is different. It's a brand new car, with a brand new chassis and brand new driving dynamics. We're introducing three new engines with the latest technology, and reducing the fuel consumption by 30 per cent.'
June
In June, we reported on the improvements Nissan had made to Micra – bringing in a wide range of changes that go well beyond what usually constitutes a mid-term facelift.
As well as a new-look front and rear, New Micra was given a substantial interior makeover during 2013. There car now features new technology, a new centre console, new trim and new finishing touches.