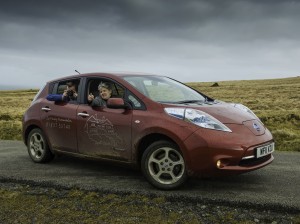 AN AWARD-WINNING Devon guesthouse is using the Nissan LEAF to offer tourists an exciting one-of-a-kind 'electric safari' through the beautiful Dartmoor National Park.
Upcott House in Okehampton uses its pair of 100 per cent electric LEAFs to offer guided tours through the stunning area which provided the backdrop for much of Steven Spielberg's Oscar-winning movie War Horse.
The model's near-silent electric motor makes it the perfect choice to take in the jaw-dropping Dartmoor scenery without shattering its natural tranquillity.
It also makes it easy to get an up-close view of the world-famous Dartmoor ponies without causing them any alarm or distress.
Upcott House proprietor, Kay Bickley, said: 'So many of our guests come to us to enjoy the stunning Dartmoor scenery and so using the LEAF to give them a sarafi-style experience seemed like the perfect idea.
'We already had two LEAFs and so we knew first hand how the model's near silent running made driving through the park even more pleasurable.
'Now our guests are able to enjoy the same wonderful experience.'
Kay, who has also installed a public electric vehicle charging point at eco-friendly Upcott House, added: 'So far our electric safaris have proved a big hit with our guests.
'They love being able to enjoy the scenery without the engine noise and also really appreciate knowing they're not harming the environment they've come to admire.'
Exempt from road tax
A spacious and generously equipped family hatchback, the Nissan LEAF was named World and European Car of the Year in 2011 and is the world's bestselling 100 per cent electric car.
Capable of travelling up to 109 miles on a single charge, which could cost as little as £2.03 on an overnight electricity tariff, the LEAF's battery-powered motor means it's completely exempt from road tax.
Upcott House's LEAFs were supplied by JFE Nissan Exeter on the Marsh Barton Trading Estate.
JFE Sales Manager, Matthew Holcombe said: 'I've never heard of a LEAF being used for anything like this before but it makes perfect sense.
'The LEAF's a really comfortable car in which to do a bit of sightseeing and the fact it's so quiet and cheap to run make it the ideal vehicle for the electric safari.'
For more details about Upcott House or its electric safaris of Dartmoor, please visit www.upcotthouse.com. For more info about the Nissan LEAF contact JFE Nissan Exeter on 0844 8464252.